About GoDB Tech
GoDB Tech is a Chennai based technology company specializing in mobility solutions for enterprises - to mobilize business processes outside their corporate walls. GoDB Tech's flagship product - "GoDB" - is an industry standard Mobile Enterprise Application Platform (MEAP) that powers business critical applications at many Fortune 500 companies. In short: GoDB extends business data/processes to mobile devices, the way emails are extended on push-based mobile phones.
About Cloware
Cloware is the umbrella brand under which GoDB Tech provides all its Cloud based mobility services. It stands for
"Cloud" as in hosted, scalable, cost effective
"ware" as in hardware, middleware, software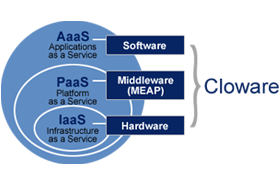 Mobile App Retail Distribution
OMS (as in Order Management System) is one of the Cloud based services under Cloware brand, which provides Sales, Marketing, Productivity and Service.
No expensive server infrastructure required
No worries about software licensing
No hassles of server maintenance and updates
Just pay monthly and start using the Ordering Service !